GW InTech offers mobile application development services across a mobile and tablet platforms such as iPhone, Android, Windows Mobile and J2ME
GW InTech provides customized mobile application development services. We also offer agile mobile application development teams geared with the latest technology and experience to serve any kind of mobile development requirements.
GW InTech, is a professional organisation providing services and solutions for development of robust and high quality mobile applications. We develop complex mobile applications, which are very proficient of setting communication protocols for cutting edge and popular wireless devices. We develop mobile applications for various mobile operating systems across a wide range of hand-held devices.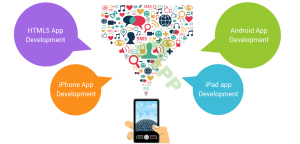 GW InTech's team is the perfect blend of experienced and talented mobile application developers / programmers. We have expert professionals, which are aware about latest mobile industry trends. Our mobile application development team has high emphasis to understand social, business and entertainment related demands of mobile users, to provide them with the best customized services in the area of mobile application development. Our research and development team in the mobile application domain help our mobile application team to provide complete mobile application development solutions across platforms.
Optimum utilization of mobile application development technologies and SDKs help us to serve quality products to our global clients. We have a team specialised for mobile application development to serve individually and/ or together in the team on hire basis. To provide the best in mobile application development, skills dedicated to clients needs we have exclusive development team hire offers customized to global clients.
Services offered by GW InTech:
Dedicated mobile application development teams
Customized mobile application development services
Hire mobile application developers
Windows mobile application development services
BlackBerry mobile application development services
Android programmers, Android mobile application development services
Symbian application development services
Mobile games development
Iphone apps development, Iphone xcode development services
If you require expert mobile application developers, for high quality mobile application software development, please ensure that you contact us at GW InTech !.
Mobile App Testing
It is a vital to test mobile app for the precise and expected technical outcomes. Independent testing services are applicable, once a development has been completed and before the end delivery to the respected clients. GW InTech specializes in the mobile software testing. It is a safe step to be concerned for the flawless mobile app access. The quality assurance is one of the phases of a software development life cycle. With a view to make the most effective and user friendly app launch, the app should have to be perfect by each and every factor. It almost reduces the chances of the app crash and to go with the infinite loop.
The proved and proficient quality assurance procedures are followed to make sure that, a dedicated application is going to respond properly in any condition and variety of user inputs. Our experienced and passionate professionals for mobile app and software security testing believe in the perfection. With respect to the mobile operating system platforms, they test the apps considering functionalities, compatibility, usability, data security, validations, etc. Our elite and unrivaled Mobile Application Testing Services include the other aspects such as open source, performance, mobile cloud, functional test automation, and much more depending upon the business sector and app category. The m-commerce apps have to be secured and safe as they are storing the sensitive data of the users. We nourish your app to give it the 360 degree precision.
To increase a lifespan of the app, automated mobile app testing is a key component. Testers of GW InTech, make sure that the mobile apps perform well, move smoothly, function smartly and intuitive. The well qualified QA engineers have an absolute control over the app from the conceptualization to the end app launch. Hence, the end users can smartly optimize the flawless app whether it is for web, mobile, wearable or desktop app.
Testers follow the testing strategies strictly. Quality Assurance engineers have hand on experience in performing different sorts of testing like, functional testing, test automation, usability testing, localization testing, load testing, security testing, etc. Hence, app is passed through the each different stage to get utmost perfection.